UMO Global Student Challenge 2013
Enhancing Commuters Experience By Preventing Flooding On Roads By Drainage Management
Published On : 30-Sep-13 12:52:55 | 1607 Views 6 Votes
What is the identified problem?
Flooding of roads due to clogging of drains in Mumbai causing un-drivable road conditions that are severely detrimental to flow of traffic. The end result is highly deteriorated commuter experience.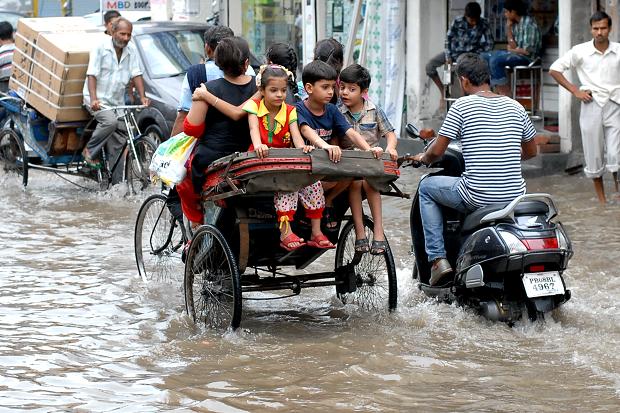 Brief about Solution
Our solution is based on the linear relationship between flooding of roads in Mumbai and clogging of the drainage system. Clogged drains are the chief cause of flooding of roads. Our solution consists of prevention mechanisms to minimize occurrence of clogging of drains. The approach we've taken is a two-pronged approach:
1. Acoustic Sensors – Acoustic Sensors are based on the underlying technology of ultrasonic sensors used in different industries to sense blockages. These sensors will be installed in all the drains and water entry points in the drainage system with a gap of 1 km between each sensor (which is their range of operation). These sensors through wireless sensor networks will inform the MCGM about the probable clogs and hence act as preventive agents for drain cogs enabling efficient drainage management. The network will use Dijkstra's Shortest Distance algorithm for sending the signals to the servers located at the monitoring site. There will be 6 monitoring site run by MCGM for 6 zones of Mumbai.

2. Waste Management Program – The slums of Mumbai (54% of Mumbai's population, 7% of its land) are in greatest need of organized waste management initiatives by the MCGM. However, as things stand only slums recognized by the MCGM are extended Municipal support. The first step in this proposed waste management initiative is to extend municipal support to all the slums of Mumbai irrespective of their state of recognition. Advance Locality Management (ALM) is a partnership between MCGM & Citizens for a sustainable, environment friendly waste management programme for neighbourhoods. Where active this initiative has ensured 10-15% of Mumbai's daily garbage is prevented from reaching the dump yards. A number which can be increased significantly with greater participation. The ALM programme can spread awareness about waste management in communities and initiate significant action.
How well does the proposed solution enable great commuter experience?
Clogging of Drains due to garbage is one of the major reasons for flooding of roads. Through our solution we have proposed preventive measures by installing acoustic sensors. These sensors through wireless networks will inform the municipal well in advance about the locations or probable clogging, hence making them take necessary steps. This will in-turn reduce the intensity of floods on the roads of Mumbai leading to better traffic conditions and giving commuters better experience during the rainy season. Our other solution of waste management would ensure avoid dumping of garbage from roads and drains through awareness campaigns taken up by Corporates as a part of the CSR initiative, proper facility for waste segregation and efficient usage of waste by routing them to appropriate destinations. This would ensure better cleaner roads and hence better hygiene conditions for the commuters to walk along the roads of Mumbai
How attractive is this idea for partners from transportation, business, government, non profit or other sectors to get involved?
Our proposed solution of waste management has scope for partners from various domains to collaborate. 1. As a part of CSR initiative, Corporates and businesses can provide their support to MCGM in extending the purview of Advanced Locality Management to every colony of the city to create awareness among people to manage their waste. 2. NGOs can collaborate with MCGM in their efforts to extend support to Low Serviced Areas for waste management initiatives
Environmental impact, whether the proposed idea in predominantly service based without adding more physical structures
Equipment and Infrastructure- Our first solution involves installation of acoustic sensors inside the drains and building of wireless networks for the transmission of data to the servers. There will be zone-wise monitoring rooms for the same none of which involves new construction of infrastructure which would disrupt daily lives of people furthermore. Waste Management Plan- This solution involves an efficient waste management plan to avoid dumping of garbage on roads and drains. This will be done through Advanced Locality Management and extension of support by MCGM to Low serviced areas. All these don't include new construction or infrastructure development which would disrupt the lives of people furthermore